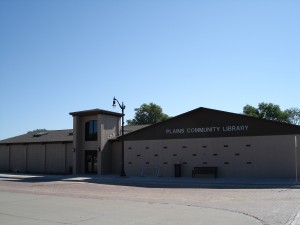 Plains Community Library
500 Grand Ave.
P.O. Box 7
Phone: 620-563-7326
Fax: 620-563-6114
Director: Sara Munn
E-Mail: plainslibrary@plainslibrary.info


WELCOME TO THE LIBRARY!
Here at the Plains Community Library (PCL) we aim to serve with excellent customer service whether in person, by phone, or online!
Our mission is to provide popular, high interest resources to meet the educational, recreational, informational, and technological needs of the community residents. The collections should reflect broad subject coverage with materials in a variety of formats. The library's resources shall be supported through the services and resources of the System Headquarters (Southwest Kansas Library System, Dodge City), the Kansas State Library, and the Interlibrary Loan System. The Library's role is to provide trained staff to assist patrons with these services, up-to-date technology, and the sufficient telecommunications.